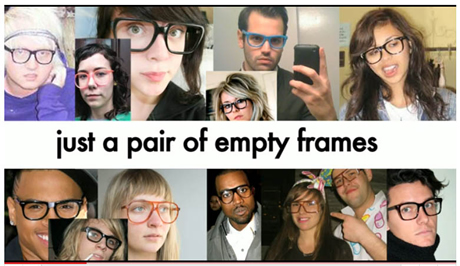 ---
East London Brethren
I've recently climbed aboard the East London bandwagon to sample the flavours of the self-proclaimed 'creative hub' of the capital. It's made for interesting living so far. The fashion, style and general vibe created by a swelling of creative types mixed with the edgier multi-cultural legacy of the area gives rise to a diverse and at times quite bonkers melting pot of people. It was travelling on a bus through Shoreditch that I had a small epiphany inspired by a couple of my new creative brethren.
So, I was on the said bus, sat behind two agency-side creatives/designers. Aside of what they were discussing I immediately deduced their occupations because they were wearing the official East London 'I am a creative' garb punctuated with the mandatory non-prescription glasses. I started eaves dropping the conversation (as you do on a bus - even if you have no real interest in what's being discussed) and heard a couple of absolute colloquial gems that got me thinking. The first was a belter, when one of the guys asked the other why his design of a Facebook page had been received so well by his peers he replied 'it's seminal innit', his friend seemed a bit puzzled (as was I) and said "what do you mean?" what came next was unexpected, ridiculously obvious, yet strangely profound… "it's for the people" he drawled.
This last phrase started to roll around in my head and gather some momentum. The underlying sentiment of this guy's comment is one that gets lost too many times in digital, certainly where brand / corporate websites are concerned. I passionately believe websites should be designed 'for the people'. Trawled by bots and the like, yes, but fundamentally you want a living, breathing human being to click, read, consume, interact, digest, learn, laugh, cry, share, like, follow your website / web content.
There is still a lot of siloed thinking around the role the main company website has to play. Too many b2b and b2c brands still view it as having four walls, a roof and a front door through which everyone enters. They've built and furnished this online home to appeal to their own tastes, it's decorated with pictures, holiday snaps, etc. that only resonate with immediate family members. So it's therefore no surprise that the marketers charged with running these sites find themselves sat in the living room on their tod, quietly grazing on a finger buffet set for 1000 guests and nervously twitching the floral patterned curtains every time someone wanders past the window without coming down the drive.
Successful websites don't have permanent residents, they have landlords who have built and designed a home specifically for the needs of the public and/or businesses they want to use the space. These are structures that aren't bound by walls or doors, people enter the space through hundreds and thousands of different entry points. These people come back, these people meet other people there, they may even bring a nice little ornament and leave it on the mantelpiece. If you were to look at the deeds of these properties you'd see that the boundary lines are blurred and continually moving and overlapping with those of other houses in the street!
My point being that your website (and pretty much most digital marketing assets) needs to work at a base human level first and foremost. Don't get too wrapped up in your own needs and wants, don't get too wrapped up in the latest and greatest technology digital has thrown up, put your emotional intelligence into gear, think about the target individual. What drives them? What motivates them as people, as professionals, as consumers? Build out a website strategy from here, moulding content and experience to create user journeys that connect your business to the audience. Get this right and then you can start integrating your own needs into the mix and before you know it the house party will be kicking 24/7.
marketing strategy•design/ creative•customer engagement•agency
---