Tim Young recently joined purestone as a web developer within the design and development team. Here are his thoughts on what it takes to be a developer and what he has been working on so far at purestone….
---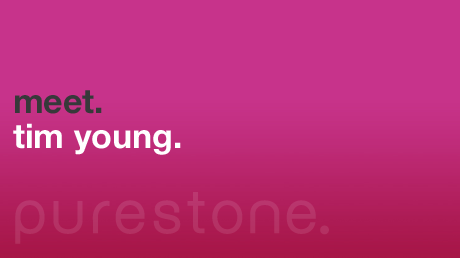 What did you study, and why?
My education was more in the art and design side of things. I did an illustration degree but ended up doing more graphic design. After a couple of early IT related jobs I learnt to code websites. One of the interesting things about the web is just how much is out there that you can teach yourself.
Did you always have a career in digital in mind?
I think I was lead down this path by my geeky love of design and technology. I believe a mix of technical and design sensibilities gives you a great position from which to solve digital problems. I remember as a kid having a go on a friend's computer with a photo program and being hooked.
What is your current role at purestone?
At purestone I am part of the web development team consisting of designers and web developers. I am what is known as a front end developer – the person who builds websites using code.
What is a front end developer and what does it involve?
The role of a web developer can be separated into the 'front end' and the 'back end.' The front end is the design, images, colours, buttons, forms, animations and content. Everything that a user of a website can see. The back end is the bit that you can't see, the code that makes websites work. Once the web designers have created the flat visual images of how the website will look they hand this to the web developer who then works out how it is going to be built. Developers break the designs up into components and start to build them into a website using code. The website then needs to be tested in all different web browsers and mobile browsers to make sure that the site is accessible to everyone.
What skills does a web developer need?
A web developer needs to understand the best way to break a design into sections and code in HTML and CSS. They also need to be able to edit images and graphics in Photoshop. There are often design considerations that need to be added to during the build process. Its very important to think about the user when you approach a new project. Understanding the systems you are building within and optimising for the platform you are building for is another important skill.
What sort of projects do you work on at purestone?
At purestone my work can vary a lot. The majority of my work comprises of building websites but can also involve microsites, mobile sites, apps, games or anything online really. I can be working in a long project with a team doing a variety of tasks, or just working on my own on smaller projects. Most recently I have been building a new promotional website for a leading workwear and corporate clothing brand.
design/ creative•customer relationship management•customer engagement•agency
---